Well done is better than well said.
- Benjamin Franklin
Hawk Technology Ltd employees have great pride in the quality of their products. They are truly craftsmen of their trades. All of our products are the results of our clients needs and our commitment to manage all of aspects of our business under one roof and provide true tudrn-key solutions for our clients.
Whether you need a specific product or a custom automation project our team is prepared. Our automation department uses the most modern technology including EtherCat Technology, wireless solutions, and customized human/machine interfaces. Clients know they can rely on our built in process checks for seamless data collection; strategic partnerships with technology distributors; RFID Systems for robust error proofing; and 3D design and simulation.
Robotics
Hawk Technology Ltd. offers what many other robotic integrators can't; true "turn key" solutions. Our state of the art on-site tooling department will integrate your robotic needs as well as create the tooling for seamless manufacturing solutions.
We provide:
HMI packages that display work instructions in real time
Custom HMI packages tailored to your solution
Single-source tooling and integration
Custom cells designed on site
Standard line of cells
Offline programming
Simulation services
Standard Positioners/Trunnions
Our full line of industrial positioners/trunnions meet all your part placement needs.
We provide:
Planetary Gearboxes for backlash of less than 1 arc minute
Through-bore designs allowing utilities to be fed to tool
Cantilevered, head and tailstock versions
Manual, pneumatic, and hydraulic clamping
Powered and manual versions
Up to 1,500 ft. lbs. of torque.
Barrier Panel Systems
Containing and defining spaces is easy with our customizable panel system. Manufactured from self-extinguishing polymer they are ideal for working conditions in welding, machining and assembly environments.
We provide:
Standard system comes in 6', 9' and 12' heights
Right hand and left doors available in 3' an 6' widths
Add your own logos or labels directly in the polymer
A variety of color choices
Clear, tinted and laser glass windows
Custom engineering for door safety switches.
Vision Inspection Systems
Our goal at Hawk Technology is to provide the simplest and most cost effective image analysis equipment. Today we can offer sensor solutions tailored for process engineering with an emphasis on low investment costs and simple installation and start-up.
Our compact well engineered equipment is suitable for inspection of various components during manufacturing process, and detect abnormalities of inspected components.
All vision inspection system components such as camera, lights, software and documentation are included. Enhanced training, support (remote and on-site), and validation services are also offered.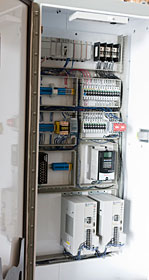 We have invested in our people and given them the best tools to work with so everyone can do their very best and deliver the very best to our clients everyday, every time.